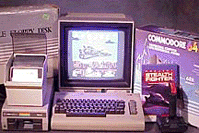 Our items for sale on eBay!

We Buy and Sell Classic Computers and Vintage Video Games!
VIDEO GAMES - COMPUTERS - TYPEWRITERS - WORD PROCESSORS
Specializing in older computer systems/software and all types of home video games and systems, we have been in business for over 36 years. Located in Mt. Vernon, Washington we are an independent family owned business. We offer many hard to find or rare items for auction on eBay.If you have a question about availability of an item etc. feel free to contact us by e-mail or call us.
VIDEO GAMES
Adventurevision - Arcadia 200 - Atari 7800 - Atari - 5200 - Atari 2600 - Atari Jaguar - Atari Lynx - Atari Pong - Atari XE - Bally Home Arcade - CD-i - Channel F - Colecovision - Gameboy - Intellivision - NEO-GEO - Nintendo (8 bit) - Nintendo 64 - Odyssey 100 & 2000 - Odyssey 2 - Panasonic 3-DO - RCA Studio II - Saturn - Sega Dreamcast - Sega 32X - Sega CD - Sega CDX - Sega Gamegear - Sega Genesis - Sega Master System - Sega Nomad - Sega Saturn - Sony Playstation - Super Nintendo - Telstar - Turbo Grafx-16 - Ultra Pong - Vectrex - Virtual Boy
COMPUTERS
Apple Computers - Atari Home Computer - Commodore 64/128 - Commodore Amiga - Commodore VIC-20 - Macintosh PC Computers -
TI99-4A Home Computer - Tandy Color Computer - Timex-Sinclair
TYPEWRITERS
Brother - Smith Corona
WORD PROCESSORS
Brother - Smith Corona
---

9-27-2022

---
HOST PROVIDER